Self-taught artist, i start to deal with steel as a mechanic and designer. At this time, i transform it into technical and utilitarian objects, but with no soul.
Then comes my encounter with the fire of forge that open me up to new horizons in creating, allowing me modelling steel in a more human and sensitive way by the way fixing my feelings in the material.
Creating by blacksmithing gave me another dimension in steel shaping and became for me a full-fledged form of expression.
Each sculpture takes birth between forge and anvil, and each hammer stroke is done to adjust steel according to my aesthetic sense and emotion.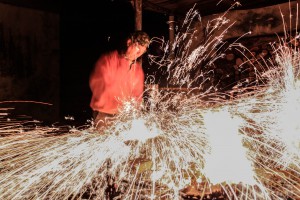 Usually working from rough material, i prefer working with a coal forge, this one giving its full dimension of the alive aspect of fire.
By the hammering action, fluctuating energies of fire and inspiration are transmitted to the inanimate matter, giving it its unique and alive nature.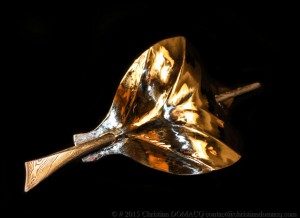 The discovery of the metal repousse technique gave me a new asset to express myself in my sculptures. Usually cold processed with traditional tools, this technique allows a unique acuracy in shape and texturing that fits perfectly my requirements.
The effects and patinas i do on my sculpture are mainly done with heat treated natural products as beeswax, flaxseed oil, or the rich variety of colors of steel oxydizing.